I finally had some time to do some testing with TSS shot. We all know it's some deadly stuff, but it has gotten so much hype, it's hard to separate fact from fantasy. I wanted to have some reasonably hard data points to look at.
Note – this is long, really long. There is a ton of data presented here. Maybe too much, for one sitting. You've been warned...
Before getting to the test results, also please note, this is a tiny data sampling here. It's as much as I can afford though
. But, different gun, chokes, load, more shots, different test medium, the list goes on and on of how the results might change. I get it. This is just what I have, at this point, and it is what it is.
So, take this for what it is, nothing more. Draw your own conclusions or form your own new questions.
I tested just two TSS loads. Both 12 gauge 2-3/4". Both 1-5/8 oz payload, listed by the data source at 1255 fps. One with TSS #4 and one with TSS #2. With 131 and 94 pellets each.
All in my Benelli M2 with a 26" barrel.
Let's start by looking at some patterns. Really terrible patterns. My first two patterns with TSS at 40 yards.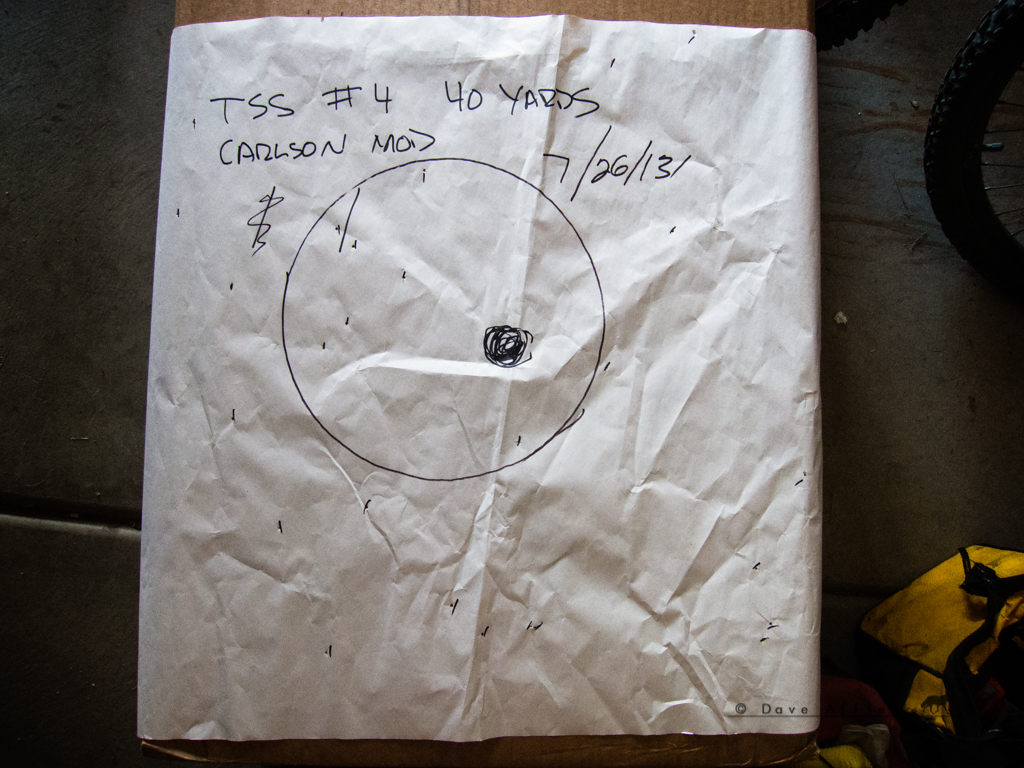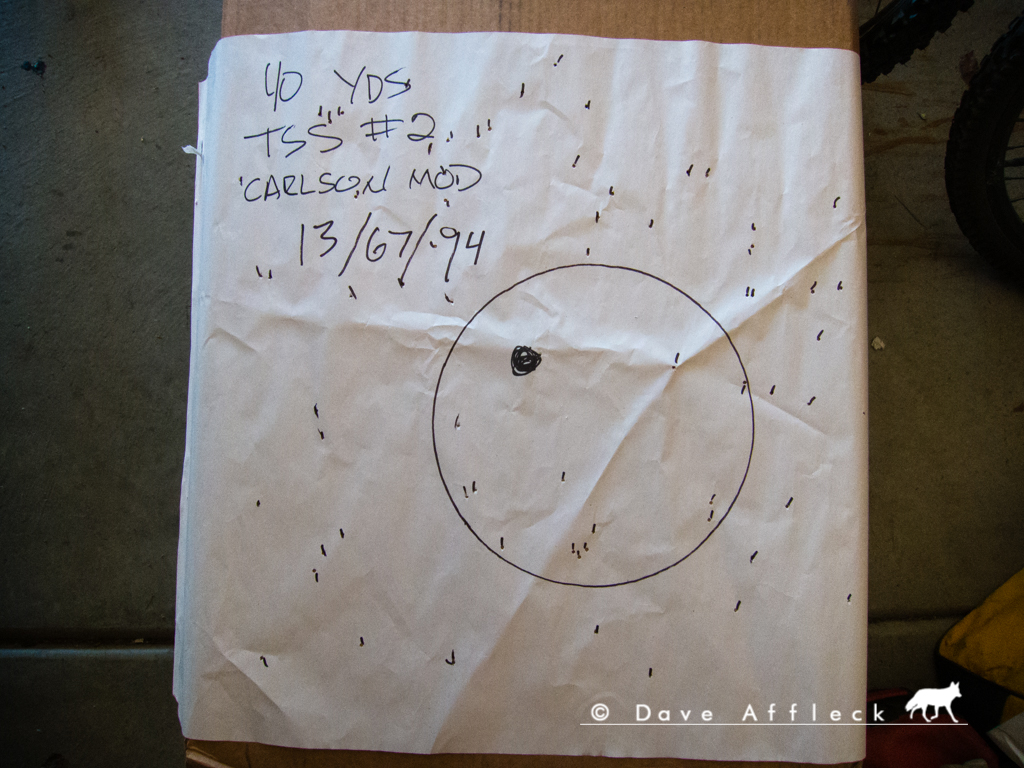 Talk about a lousy start!
Everything I had heard was to use less choke with TSS. So, the first choke I tried was an extended Carlson Mod. Horrible!!! Next, I tried a Kicks GT .670.
Kicks GT .670 at 40 yards – MUCH better!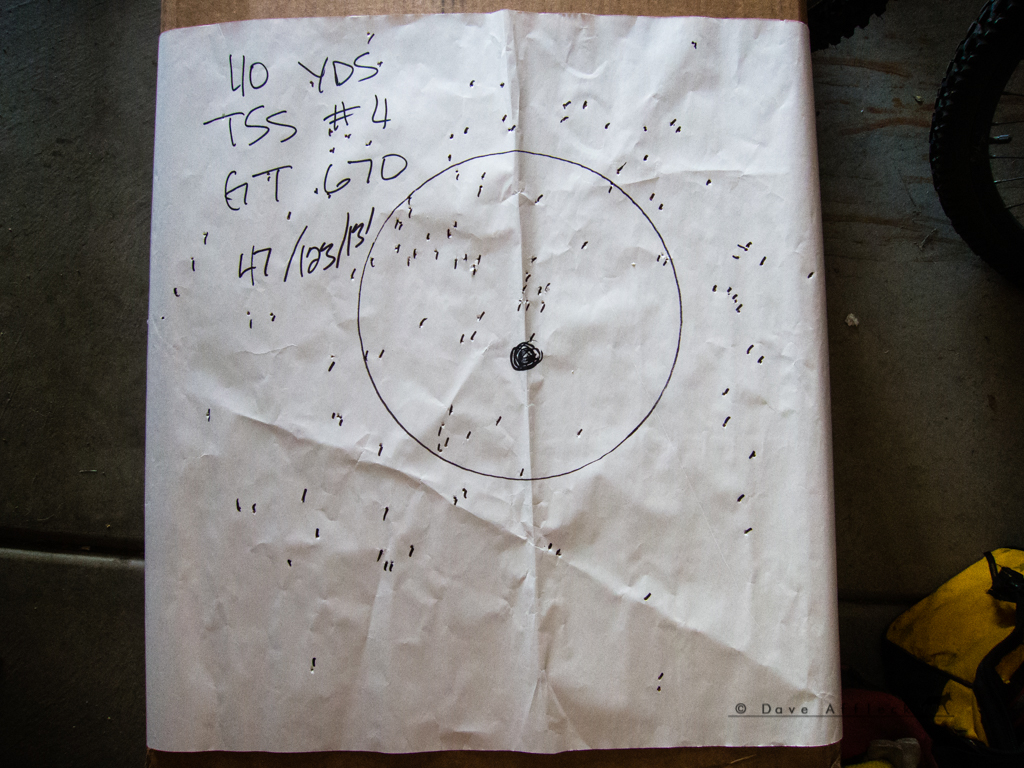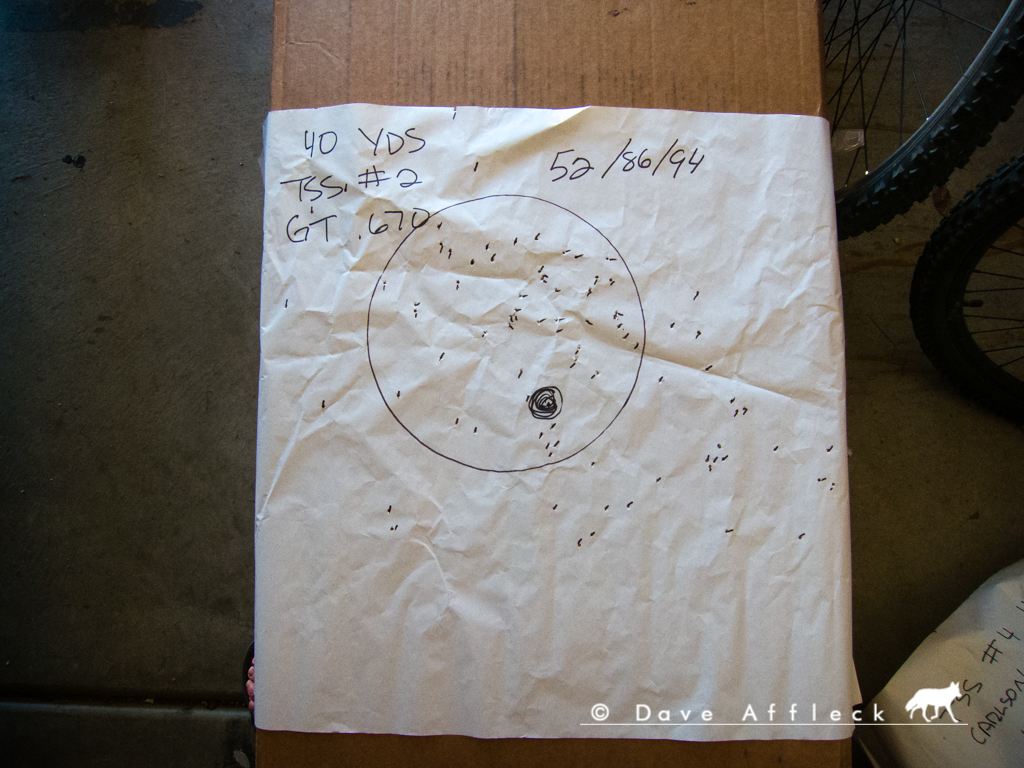 For the #2, that's 52 hits in a 10" circle, 86 hits on the 2x2 backer paper (out of 94 pellets in the shell). And that's 52 hits that penetrate like crazy, as we'll see in a moment...
The #4, interestingly, had fewer hits in the 10" circle at 47. With a 131 pellet payload, I'd expect more hits in the 10", not less. This proved to be the case in all patterns at all distances that I shot with the TSS #4 and Kicks GT .670 compared to the TSS #2, so I believe a better choke could be found for the #4's.
But, that's a fairly even and dense pattern over the whole 2x2 backer, with 123 out of the 131 pellets in the shell hitting that two foot square. And 47 in the 10" at 40 yards, that's a coyote whose soul is halfway to heaven before it has any chance to hear the shot. So, while I think a better choke could be found, that's still a coyote killer of a load and pattern!
And, it must be stressed, I have done quite a bit of patterning with this shotgun in the last few months since I got it. With more than a half dozen 3" loads and many chokes. All geared 100% towards coyote. These first two shots at 40 yards with 2-3/4" TSS loads and the GT .670 are by far, the best 40 yard patterns I've seen yet with this gun yet.
For comparison, these are the two next best I've seen at 40 yards so far and it took a lot of shooting to come up with them.
Dead Coyote T, with DC choke, 34 in the 10", all 51 pellets in the shell hit the backer.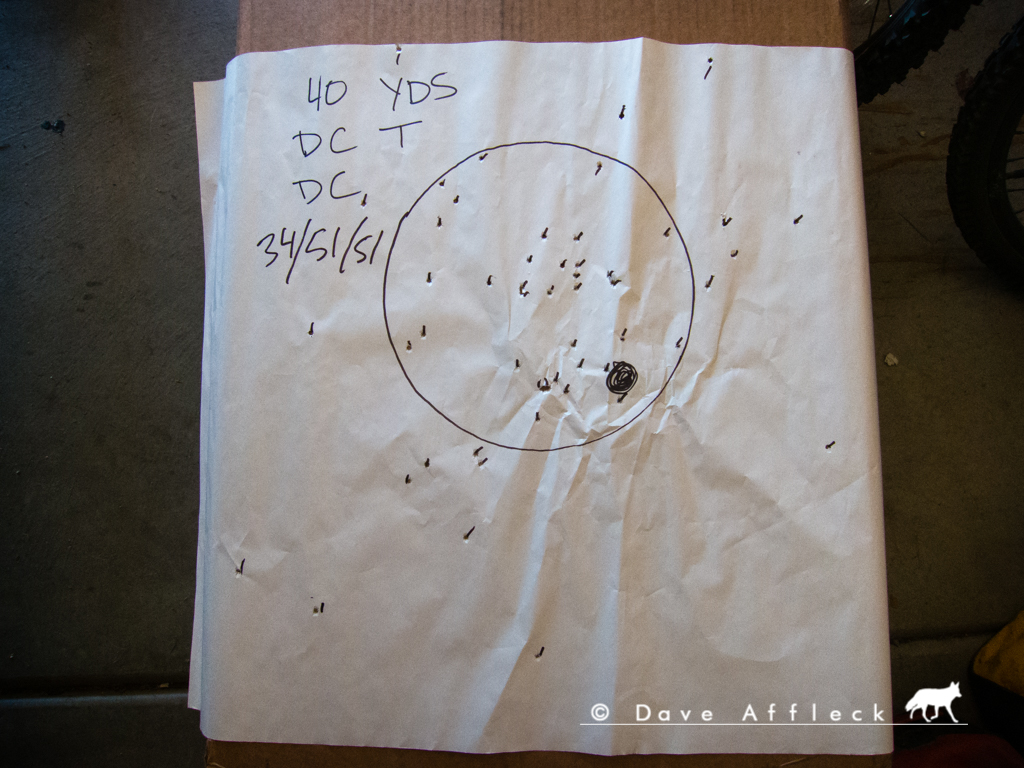 Nickel Plated F, 1-3/4 oz, 26 of the 49 in 10".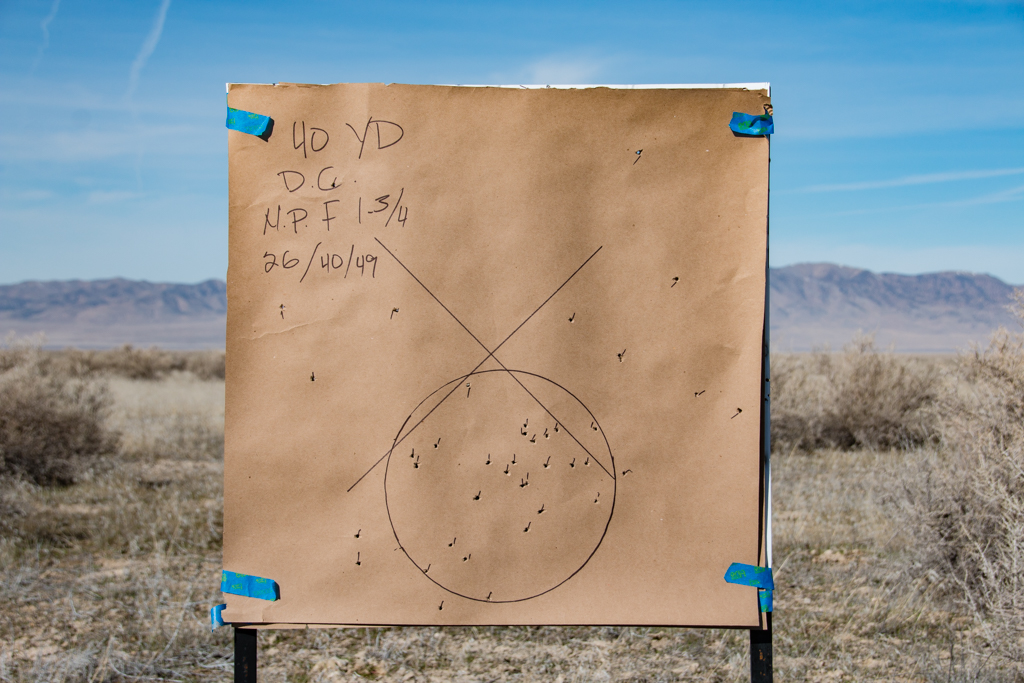 At 40 yards, the TSS #2 is putting TWICE as many in the 10" as my previous best handload, the NP F.
That, is some seriously good 40 yard patterning, I think.
Much more to come...
- DAA